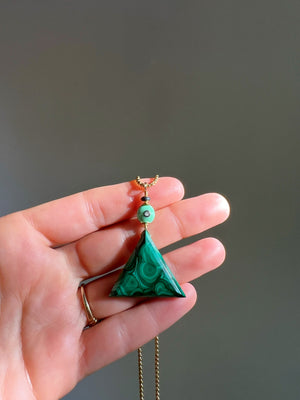 Swirling Marbled Forest
Sale price Price $265.00 Regular price
Ancient Egyptians prized the Malachite stone for its swirling shapes and formations of mini "eyes" like the rings in a forest tree marking its time on Earth. Also known as a gateway to healing and used in ritual and ceremony for safe passage to the afterlife, Malachite is a Mother Stone and often used in midwifery for safe passage INTO this Earth.
A keeper of the realms and a stone that speaks to the angels behind the veil, asking them for assistance as souls move between the realms. 
This Malachite is shaped like a temple, a pyramid---symbolic of the Ancient Egyptian Pyramids and their placement which mirrors the Pleiadian Constellation---a stone that traverses worlds, dimension and the planes of existence. 
Paired with an Indian mint green enamel eye with two diamonds inside it. 
Ultimate vision from the Heart. 
14k gold fill
Length: 17-19"
ONE OF A KIND