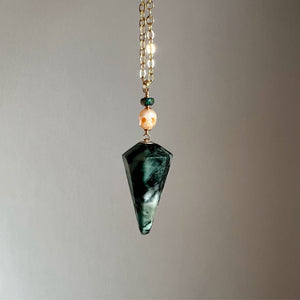 Marakata Pendulum
Sale price Price $175.00 Regular price
The name "Emerald" was first translated from the Sanskrit word "marakata"-- meaning: "the green of growing things." 
Raw Emerald Pendulum for the sight, the vision, and the heart. 
Pearl Skull as a symbol for that which dies to be reborn. Ancestral healing. Angel Guardians, watching over us. The cycle of life. 
Black Opal for magic, reflection, and cosmic consciousness. 
Potent pieces that were deeply inspired by the power of the Emerald. Limited Edition. 
Length: 28"
Metal: Gold or Silver