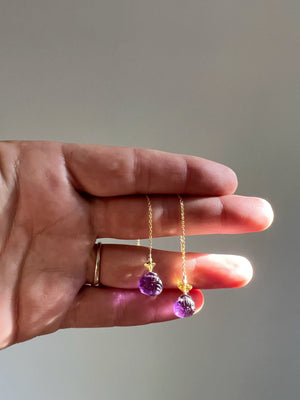 Fairy Flower Dangle Earrings
Sale price Price $145.00 Regular price
Amethyst carved flowers paired with tourmalines on threader earrings. 
Heightening our capacity to hear the messages the flowers and plants are thrilled to share with us. 
This is a time that I am certain most of you are feeling the same call we are----the call to connect to the garden. To plant roots in the soil of the land where you live. And to listen, feel and connect to the vibration of the native nature beings that surround, support and adore us. 
Forming a more conscious connection to the land where we live, the attention we feed it, and the ways in which it opens up powerful force fields for us to raise our consciousness within. 
14k gold fill or sterling silver