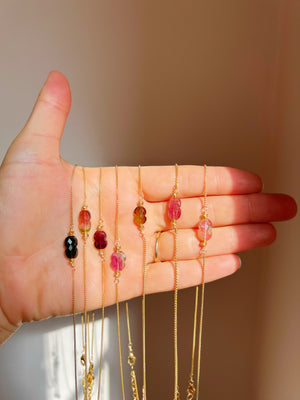 The Infinity Necklace: Round 2
Sale price Price $188.00 Regular price
The stones we need the most are often the most abundant on the planet. Tourmaline, much like crystal quartz, is prolific and unbridled---forming herself in every color of the rainbow corresponding to the fractal waves of light creating a kaleidoscope of color and beauty.
These tourmalines are all cut in the shape of the symbolic figure 8: Eternity. Endlessness. Cycles of life death and re-birth. 
This symbol is one of Alchemy and wholeness. Connecting the divine masculine and feminine energies into a swirled pattern of flow and interconnectedness. 
In the Tarot, there is an infinity symbol above the head of the Magician Card. Representing Balance and Harmony. The scales of the mind coming to work in concert with the Heart. This brings forth the symbols of the Lovers, Gemini Twins, the Libra scales and the Healing Art of Alchemy---churning that which is out of balance into Golden Light. 
Each Infinity Necklace is made on either 14k gold fill or sterling silver snake chain.
Length: 15-17"
Mini 22k gold plated or sterling silver POUND fist attached to the back as a symbol of strength, the heart and the hands that spin creativity into creation. 
PLEASE USE THE FIRST PICTURE (NECKLACES ON THE HAND) AS A GUIDE FOR PICKING YOUR COLOR! They are listed in order from LEFT (closest to wrist with the dark, dark green-almost black-looking one first) TO RIGHT (closest to fingertips)
These are the last of our beautiful Infinity Necklaces <3