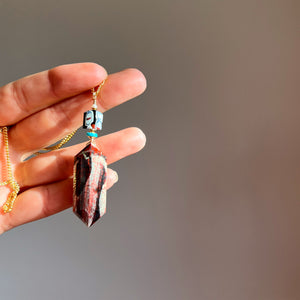 Art of the Stone
Sale price Price $295.00 Regular price
Red Jasper like clay and paint mixed together. Paired with turquoise and a vintage African Bead. 
A talisman of the art we find in nature. 
When we feel stagnant or stuck in creative pursuits, go outside and look around. 
Art is everywhere and in everything. Let yourself bathe in it and just BE. 
You are a part of this art.
And adornment is an art we can play with in order to ask for help.
14k gold fill
Length: 17-19"