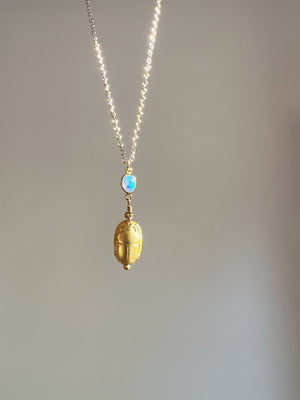 Scarab of the Milky Way
Sale price Price $175.00 Regular price
Nocturnal dung beetles can navigate using the Milky Way. They can perceive it as a line in the sky, and possible detect the galactic center and stardust lanes. They are the only known creatures to be able to see the polarization of the moonlight. 
Seen from an aerial view, the human skull looks like the back of a beetle. Can we, too, navigate by the light of the stars?
These sacred beetles were sacred to Egypt for a reason. And remain one of the most powerful ancient symbols for re-birth in the collective unconscious. 
Paired with a Milky Way Opal on top. 
14k gold plated Scarab
14k gold fill chain
Length: 18-20"