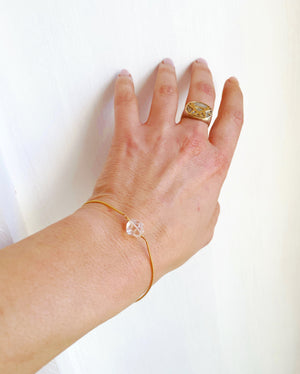 Life-Force Bracelet
Sale price Price $105.00 Regular price
Stone of Life-Force
Herkimer Quartz crystals are the diamonds of the clear crystal quartz world due to their purity, clarity and power. They are known as the "Life-Force" crystals, attuning to and then enhancing the intentions and deeds you bring into the world through your energetic vibration. They help attract your deepest, truest desires both to and through you. All Herkimer crystals grow in Herkimer, NY and have been gestating for over 500 million years. They are double-terminated (a crystal point at the top AND the bottom) to allow energy to flow in and out of the stone. Magic.
Herkimers are literally known as the "Diamonds" of the mineral world. 

Each and every Herkimer Diamond is unique. They are all 100% natural and many contain little "fractures" or  tiny "rough spots" where they have become unattached from their host rock, aka Dolostone. 
Crystal Dimensions:
approx 8mm
Materials: Quartz Crystal, 14K gold fill or sterling silver chain.

Length: 6.5" with 1" extension
***All crystals are unique. Natural crystals and stones do not grow perfectly symmetrical and may not appear exactly as imaged in photos. All will have tiny "rough" spots where the crystal has become unattached from host rock