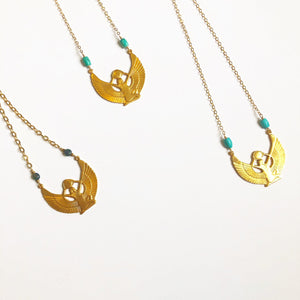 Goddess Pendant
Sale price Price $175.00 Regular price
Isis Goddess Pendant with Turquoise // LIMITED EDITION!
Isis = "female of the throne"
This piece is inspired by the Egyptian Goddess of Creation and of Magic. Isis understood her magical powers and how to use them wisely. She has also been associated with fertility and as the protector and patron of women and children. She is representative of Earth, Air, Wind, Fire and Water. All of the elements breathe her name, and we find this talisman, dipped in gold and paired with the stone of wisdom, an incredibly powerfully loving and regal adornment.
Very Limited Edition Currently.
Materials: gold-plated Isis symbol, tiny turquoise beads, and gold-fill chain/clasp
Length: 16-18"
NOTE: Every single piece is handmade to order. Please allow up to two weeks for your items to ship, though we try our best to get each order out within 2-3 days!! (regardless of which shipping method you choose!)