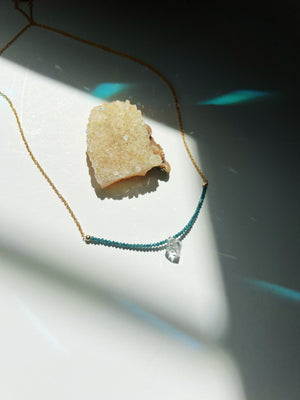 Blue Diamond and Herkimer Life-Force Necklace
Sale price Price $395.00 Regular price $395.00
Blue Diamonds are amongst the rarest of them. As are the Herkimers. Together they unite life-force and loyalty. Peace and exuberance. Strength and the Courage to Shine.
Life-Force and the message that we have choice. We hold the power to choose which way our decisions will flow. Every obstacle comes with the gift of allowing us a space to re-format the way we think, the way we choose, and the way we act.
Perhaps our favorite piece to date. Holds ancient prowess and sweet delicate elegance. 
Feels like the purest blaze of brilliance on the body.
made with 14k gold fill chain or sterling silver
length: 16-18" 
***delicate so please handle with care. we do not recommend sleeping, showering, bathing, swimming, exercising in this piece.***