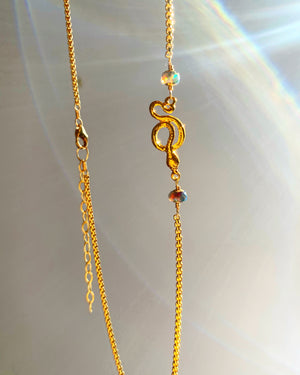 Kundalini Choker
Sale price Price $185.00 Regular price $195.00
The divine feminine energy coiled at the base of the spine. Serpent medicine of shedding and renewing. Originally we made these serpents into bracelets. Then amidst the pandemic and zoom yoga, I found a Kundalini teacher who requested a custom choker necklace with the serpent. We loved it so much we made more.
She Is Rising. From the Root Up to her Crown.
Sits at the base of the throat where the energy we have uncovered through stillness can be shared. 
Materials: gold-fill or sterling silver serpent, opals, gold-fill or sterling silver snake chain
Length: 14-16"
A piece from our New Ancient Collection: an amalgamation of talismanic jewels inspired by art, written codes, gilded mirrors, incredible treasures, and tid-bits that have been excavated from the cracks and depths within a very old house---one full of magic, mystery and ancestry.