New Moon, New Year, New Season and New Treasures 💎
With the New Moon in Libra, there is an auric field percolating that invites us into a deeper sense of balance. A sign of mirrors, of scales, of relational magic; Libra is like a pendulum that has found its own perfect center.
Libra is the Opposite of Aries.
Aries = Spring and the Self.
Libra = Fall and the Other.
Embodying the energies of Libra, we can uncover more of who we are by looking into the ways we relate the people that are in our lives. Where this gets tricky, for me, is to not push it too far and ask the other to "fix me", "heal me", "complete me." To be in relationship, and still be fully me.
It is an empowering New Moon in that we are able to be in relationship, and still draw from our own inner resources in order to heal what needs healing on our insides.
I love how the stones that show up for us do so in divine timing and perfect order.
The Stones are Mirrors.
Though the pendulums are an obvious choice for Libra Season, we also just collected a small batch of some of the most sacred, stunning Turquoise.
This epic stone comes from the Golden Hills of Kazakhstan. Each piece swerves itself into incredible formations. Mottled with veins like dark rivers running through a sea of green and blue that likens itself to the heavens and the spirit beings that fly there, this stone has so many fascinating facets, it is pretty mind blowing. This particular turquoise holds a sort of "Grandfatherly" energy. Wise strength and courage of voice. Turquoise is of the Earth. A symbol of the Sky. A bringer of balance to the masculine and feminine elemental earth energies. And it can change color all on its own. This particular turquoise forms in an interesting way, kind of like a geode. So it has two halves. It opens like a butterfly's wings (see picture 3!) The inside of the stone is soft and smooth, and the outer shell is tough and protective. So happy to share these loving living vibrations of truth-telling with you.
Turquoise is the Stone of Truth, in that it opens the throat chakra to assist us in speaking from the wholeness of who we are. This stone is one of the oldest stones known to us, and has been used in sacred ritual and calling on the Gods and Goddesses of the Sky for thousands of powerful years. 
Kazakhstan Turquoise is one of the more rare and one of the most vibrant specimens of turquoise found in the world. Each and every single piece is unique in color, shape, size, and form. The colorful part of the stone is the inside of the stone, and all of them are more of a natural gray and turquoise on the back, or outside. They form like geodes in this way, with the spectacular beauty on the inside. Though the outer portion is also total magic. 
I think of them as having an outer shell and an inner shell. This is one full piece of Turquoise, opened up. Two halves of the same stone. Revealing balance, wholeness, and multiple perspectives. A talisman for two humans who walk together or for twins or for just one person, knowing that another person carries the opposite side on their neck out in the world. 
(Option to purchase one or both with this pairing.) 
Thanks to the wonderful, articulate, wise woman Virginia Rosenberg and her epic Sky Scholar Program, I am learning about

Sabian Symbols. I am actually

 becoming pretty obsessed with them. These symbols are a set of 360 phrases that correspond to the wheel of the zodiac. Every symbol has a story and has channeled potent messages that I really love feeling into. 





The Sabian Symbol for today's Sun at two degrees Libra is titled: 

THE DAWN OF A NEW DAY REVEALS EVERYTHING CHANGED This symbol is represented by new beginnings. And I find it powerful that this particular symbol at this exact degree falls on the New Moon. And on the first day of the Jewish New Year. Grateful to be constantly renewing. Honored to be one of the ones to be sharing Grandfather stones of balance with you all. 
Front and Back of one of my favorites of the Turquoise. Looks like a Priestess. I love the symbology, can't you tell :)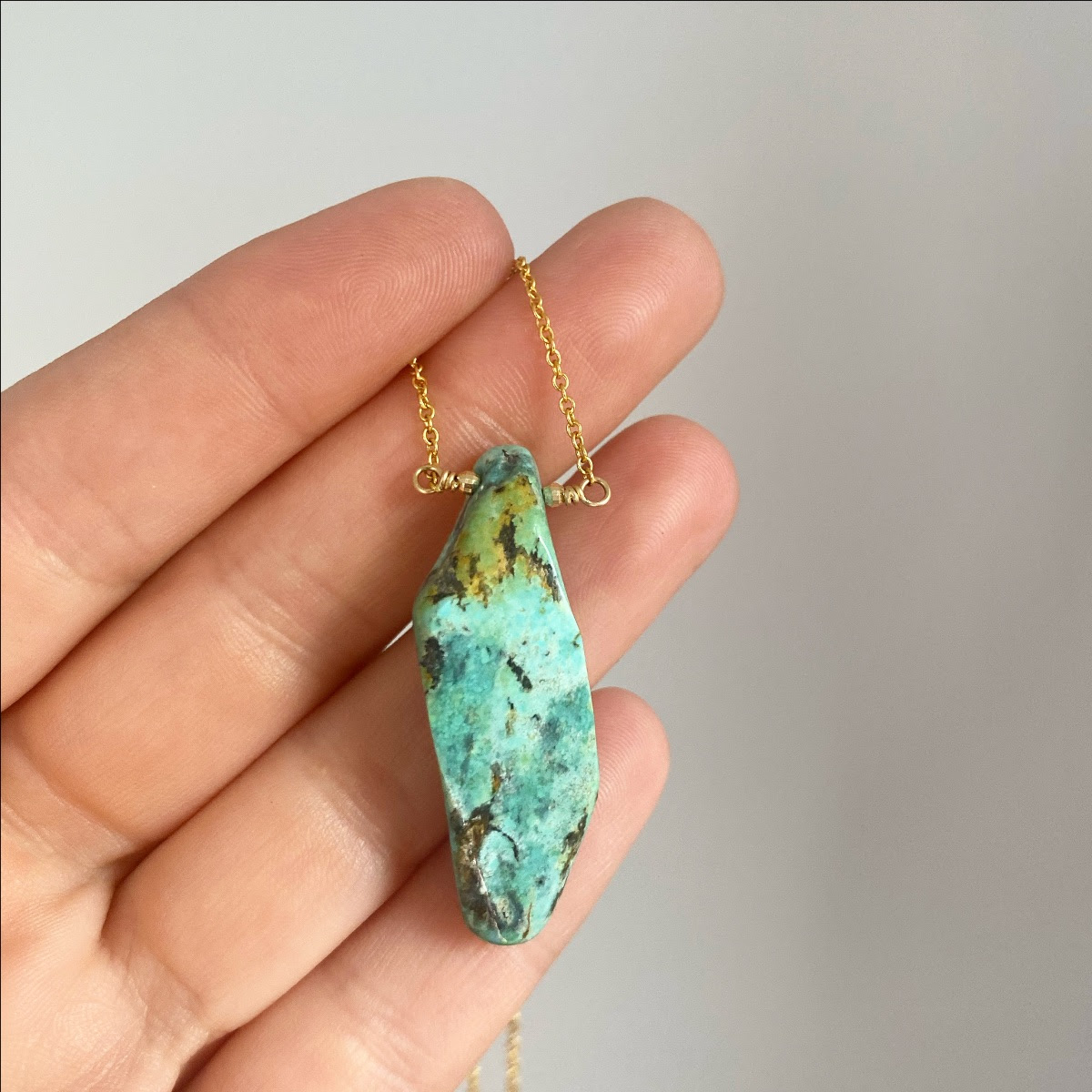 Can be worn with this teal and green smoother side front, or vice versa. Switch it up depending on mood. For balance. 
All our love and in sacred hues of new and blue,




xxx,


Linda, Becca and Mia