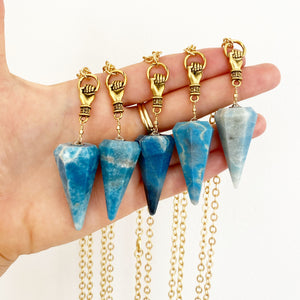 Trolleite Pendulum: LIMITED EDITION
Sale price Price $108.00 Regular price
A Stone composed of Lazurite, Quartz and Scorzalite, this incredible miracle is known as the "Stone of Heaven."
It holds the energy of Tranquility. A stone to calm our senses so that we may gently release release release. After the release and sweet surrender our needs are uncovered and our new path forward can be revealed. 
Trolleite can help us smile in the middle of any storm, because we know the peace will come. Sometimes the most impeccable wisdom is brought forth in the "not knowing-while we sit here and are gently coerced into silence from within and without."
Trolleite can be found as a mineral on Mother Earth, but is even more abundant in meteorites, in particular, those originating from the Moon and Mars!!! Wowsers. 
A beautiful New Moon in Cancer Stone. Flow flow heavenly flow. 
Materials: Trolleite Pendulum on 28" long chain with POUND fist. 
This piece is adjustable.
IMPORTANT: every single stone is unique and hand cut and will not look exactly like the ones in the picture. Some are a tad more elongated. Each is stunning! 
NOTE: Every single piece is handmade to order. Please allow up to two weeks for your items to ship, though we try our best to get each order out within 2-3 days!! (regardless of which shipping method you choose!)