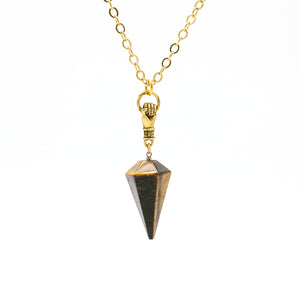 Tigers Eye Pendulum
Sale price Price $95.00 Regular price
Stone of Intuition
A stone of Intuition known as the "all seeing eye" by the Egyptians since ancient times, this stone has a prismatic behavior due to the layering and oxidation of minerals as it forms. Its vision covers a 360 degree perspective, bending your perception of what you're seeing and opening your mind to your deeper sense of knowing. A very powerful protective stone, Tigers Eye deepens your conscious awareness of your inner wisdom, helping your step forward into a stronger sense of self-trust.
Materials: Tigers Eye Pendulum on 28" long chain with POUND fist. 
This piece is adjustable.
NOTE: Every single piece is handmade to order. Please allow up to two weeks for your items to ship, though we try our best to get each order out within 2-3 days!! (regardless of which shipping method you choose!)