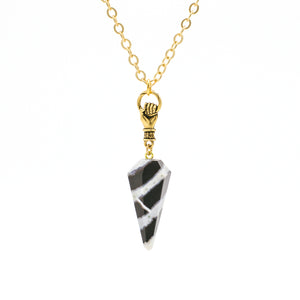 Sardonyx Pendulum
Sale price Price $108.00 Regular price
Stone of Vitality
A stone that forms inside hollow portions of rocks and has a "banded" appearance due to iron and carbon minerals inclusions, Sardonyx is a stone known to increase vitality and strength. It's a great stone for healers and athletes to improve stamina, discipline, and endurance in your professional and personal life. Sardonyx is great to have around when you feel like you're in a rut, and it's an ally during more strenuous situations, reminding you that things will turn around and that you will make it to the other side more victorious than you can imagine.
Materials: Sardonyx Pendulum on 28" long chain with POUND fist. 
This piece is adjustable.
NOTE: Every single piece is handmade to order. Please allow up to two weeks for your items to ship, though we try our best to get each order out within 2-3 days!! (regardless of which shipping method you choose!)