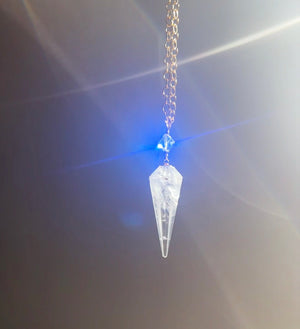 Sagittarius
Sale price Price $188.00 Regular price
Sagittarius
Symbol:The Archer
Element: Fire
Body Parts: Thighs, Solar Plexus and Third Eye, Liver
Archetype: Spiritual Teacher or Advisor, Monk, Buddha, Truth-Finder, Researcher, Travel Agent, Visionary, Pilgrim, Seeker, Athlete, Adventurer, Ritualist.
Pendulum Stone: Clear Quartz with inclusions. Master Healer. Clarity. Seeker to transform. Attunes to higher frequencies for clearing cobwebs to uncover TRUTH. Decluttering space to see more clearly. Opening to higher wisdom. Clear conduit for energy to flow through. 
Pairing Stones: Aquamarine Star. A compass to guide us to higher learning and healing. 
LIMITED EDITION. EACH ONE IS COMPLETELY UNIQUE AND WILL NOT LOOK EXACTLY LIKE THE STONES PICTURED. IT WILL BE POWERFUL Through and Through.

Length: 28" 
Adjustable