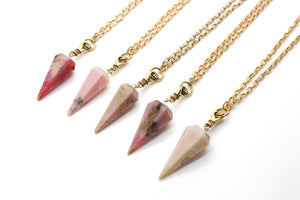 Pink Opal Pendulum
Sale price Price $118.00 Regular price
Stone of Heart Healing
Pink Opal is from Peru and has a nurturing, loving, nourishing energy to it. It feels like a hummingbird and the reminder to search for, locate and connect with the sweetness that feeds our soul. Pink Opal is perhaps the most powerful stone for a heart that is healing and expanding. It helps us recognize, face and release subconscious fears and traumas associated with heart fractures. It is a stone that reminds us to turn inward vs. outward in order to truly deeply heal ourselves and move forward stronger than we were before. Every time we are thrown for a major loop and our worlds are turned upside down, may we have the fortitude, faith and inner knowing that we will rise again. 
Peruvian Pink Opal helps us soften, stabilize and course correct when life circumstances are becoming chaotic. It is a touch stone to remember our connection to the heart of nature, even when things are challenging and appear daunting. A for deep self-love and epic self-care to nurture the nervous system the way Nature does. 
NOTE: Most of the PINK OPAL in stock is of a SOFT pink color, we do not currently have a lot of the bright deep pink tones in stock. 
LIMITED EDITION. This Pink Opal comes from Peru.
Materials: Pink Opal Pendulum on 28" long chain with POUND fist. 
This piece is adjustable.
NOTE: Every single piece is handmade to order. Please allow up to two weeks for your items to ship, though we try our best to get each order out within 2-3 days!! (regardless of which shipping method you choose!)