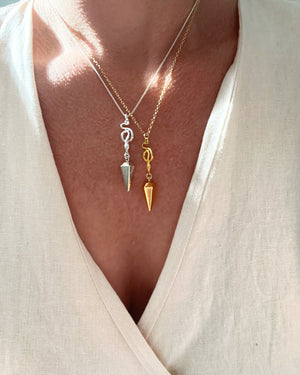 Oracle of the Serpent
Sale price Price $188.00 Regular price
The nodes of the moon that these eclipses occur on are known to be the head of the serpent: North Node and tail of the serpent: South Node. It helps us see that where the North Node sits (currently in Taurus), is where we are increasing energy, or taking IN. The tail (currently in Scorpio) is where we are decreasing energy, or letting GO.
This piece serves as an oracle of the serpent to help us remember what we are wanting to step into and what we are ready to release. Our hearts know the way. Our bellies are a true source of power and worth. The Serpent is the Alchemy. The Pendulum is the Talisman. 
Sterling silver with 22k gold plated pendulum and serpent on 14k gold fill chain OR sterling silver pendulum, serpent and chain. 
Length: 18-20"