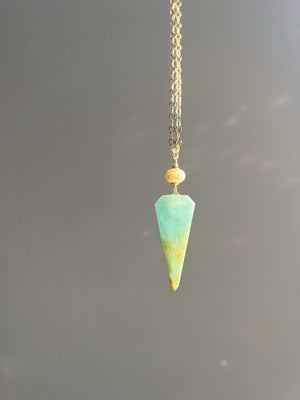 Cancer
Sale price Price $188.00 Regular price
Cancer
Symbol: The Crab
Element: Water
Body Parts: Belly, Breasts, Womb, Heart, Center
Archetype: Healer, Crone, Wise Woman, Mother, Nurturer, Therapist, Chef, Matriarch, Channeler, Empath
Pendulum Stone: Aquamarine- Stone of the depths of the sea. Stone of the tides. Stone of the Great primordial mother. The water that encompasses emotion, feeling, being, and the insides of our human bodies, swirling with minerals and motions. 
Pairing Stones: Diamond coated Sapphire- silvery like the Moon that talks to the Waters and urges her to notice the nuance of change. Breathing light glimmers onto the surface of her essence, reflecting heaven so it can be seen here on Earth. 
LIMITED EDITION. EACH ONE IS COMPLETELY UNIQUE AND WILL NOT LOOK EXACTLY LIKE THE STONES PICTURED. IT WILL BE POWERFUL Through and Through.

Length: 28" 
Adjustable
Various metal choice.
Please allow at least two weeks for these medicinal talismans to arrive.