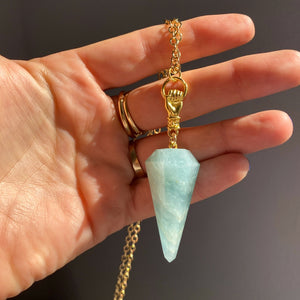 Aquamarine Pendulum
Sale price Price $108.00 Regular price
Stone of the Sea
A "Stone of the Sea," Aquamarine is a soothing and gentle stone that assists in opening your Throat Chakra to express your truth fluidly with ease. An incredible stone to help wash away the excess emotional debris that may be clogging your system and distracting you from your deepest, truest self. This stone has been a good-luck charm for seafarers over the ages and carries a playful mermaid energy.

Associated with peace and tranquility, Aquamarine serves to remind you how the heavens are reflected off the dazzling waters the ocean. A tangible talisman when you need to let go and go with the flow of life.
Aquamarine is a crystal full of mineral-rich matter and energy.
THIS BATCH OF AQUAMARINE IS MORE GEMMY (RICH IN COLOR) THAN USUAL! STUNNING BATCH, GRAB ONE IF YOU HAVE BEEN WAITING FOR HER! 
Materials: Aquamarine Pendulum on 28" long chain with POUND fist. 
This piece is adjustable.
NOTE: Every single piece is handmade to order. Please allow up to two weeks for your items to ship, though we try our best to get each order out within 2-3 days!! (regardless of which shipping method you choose!)