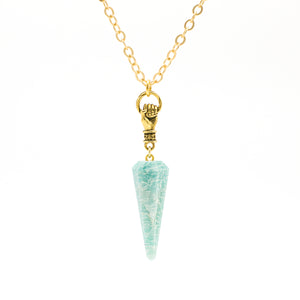 Amazonite Pendulum
Sale price Price $108.00 Regular price
Stone of Truth and Courage
Amazonite is known as the "Stone of Truth" and the "Stone of Courage." It may seem like bit of a paradox, since it's a very soothing and calming stone, reminiscent of its gentle turquoise colors. At the same time, its energy is as bold and powerful as the Amazon River after which is is named, and it has connections to the Amazon warrioress!

However, this stone also tempers aggression and anger. It opens the heart and throat chakras, allowing for more loving communication and is an incredible stone for opening to your own truths and integrity and sharing them without fear of judgment.
Materials: Amazonite Pendulum on 28" long chain with POUND fist. 
This piece is adjustable.
NOTE: Every single piece is handmade to order. Please allow up to two weeks for your items to ship, though we try our best to get each order out within 2-3 days!! (regardless of which shipping method you choose!)