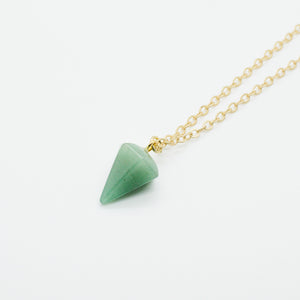 Mini 1/2 Pound Aventurine Pendulum
Sale price Price $45.00 Regular price
Stone of Opportunity
Known as the "Stone of Opportunity" and "Indian Jade," Aventurine is a stone of good luck and abundance. It bears the legacy of bringing fortune and assisting you in looking on the brighter side of your life circumstances. Aventurine is also a stone of the heart, bringing harmony and a lovingly soothing effect to the entire body.

It's a wonderful stone for manifesting wealth and prosperity, as well as assisting you during times of huge transition in our lives. It will help you release old patterns, ideas, and energy to create the opportunity for new growth to take place. Since it's a stone of the heart, it's also helpful for opening yourself to love again, especially later in life.
Materials: Aventurine Pendulum on 20" long chain. This piece is adjustable.