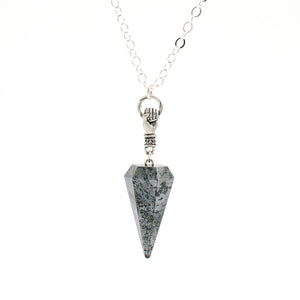 Hematite Pendulum
Sale price Price $118.00 Regular price
Stone of the Mind
Known as the "Stone of the Mind" and also as a blood stone (made of iron oxide ore), Hematite is one of the most grounding stones in the mineral kingdom. Its core of iron is the same material at the core of the Earth, and it brings incredible mental organization into your life and connects the core of your being to the state of your mind so that the two can communicate and listen to one another on a deeper level.
Materials: Hematite Pendulum on 28" long chain with POUND fist. 
This piece is adjustable.
NOTE: Every single piece is handmade to order. Please allow up to two weeks for your items to ship, though we try our best to get each order out within 2-3 days!! (regardless of which shipping method you choose!)