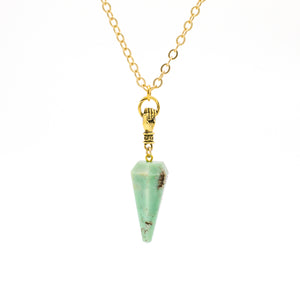 Chrysoprase Pendulum
Sale price Price $108.00 Regular price
Stone of Joy and Optimism
Chrysoprase is a stone of "Joy and Optimism." It's a heart opener that assists you in forgiving others and, maybe even more importantly, forgiving yourself for past hurts. It awakens your heart to your divine truth and wards off negative energy, especially in relationships or co-dependency. Chrysoprase also helps diffuse and release anxiety, tension, and restlessness.
Materials: Chrysoprase Pendulum on 28" long chain with POUND fist. 
This piece is adjustable.
NOTE: Every single piece is handmade to order. Please allow up to two weeks for your items to ship, though we try our best to get each order out within 2-3 days!! (regardless of which shipping method you choose!)