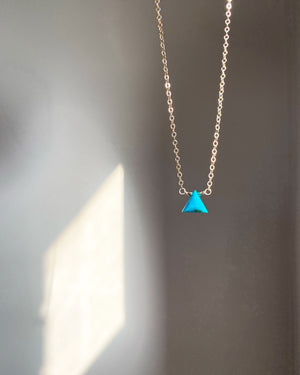 Truth Choker
Sale price Price $127.00 Regular price $135.00
Turquoise is one of the oldest stones known to humankind. A talisman for centuries. A charm of magic for healers, warriors, shamans and the royalty. 
A STONE OF TRUTH.
From Ancient Egypt to Aztec and Incan Empires to Native American tribes in North America, this stone has been a symbol of Wisdom, Power, Luck, Protection and Nobility. 
It spans cultures and life-times and there are loads of different kind of Turquoise out there. This particular piece is from Arizona. It has lots of copper in it which is incredibly healing on its own as a detoxifying element. 
Cut in the shape of a Triangle. A Pyramid. A representation of Mind, Body, Spirit. Past, Present, Future. 
Deep reverence. 
Made on 14k gold fill or sterling silver.
LIMITED EDITION
Length: 15-17"