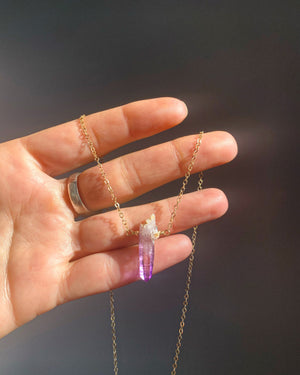 Vera Cruz Amethyst Wand Necklace
Sale price Price $150.00 Regular price
Light filled deep lavender gentle Crown Chakra Crystal. These are raw, earthy, natural tiny crystal wands made to be worn near the Heart. 
A stone that opens us to sober divine connection and clarity, while opening the Third Eye of Intuition. 
Elegant and powerful. 
A talisman for releasing addictions and patterns that do not serve. Asking for guidance as often as we need. Re-discovering your essence. Recovering your soul in an evolved way. Staying in human form and recognizing the magnificence of having faith in things unseen. 
Made on 14k gold fill chain or sterling silver
Length: 17-19"
PLEASE NOTE: EVERY SINGLE CRYSTAL IS UNIQUE AND WILL NOT LOOK EXACTLY LIKE THE PHOTO. INVITATION TO TRUST THAT THE ONE THAT COMES TO YOU IS THE ONE CALLING TO YOU.