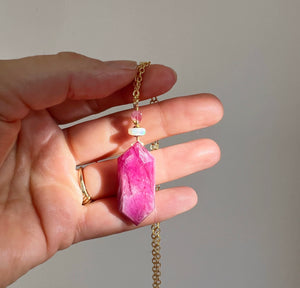 Tablet of the Heart
Sale price Price $295.00 Regular price
Rubellite is aka Red Tourmaline and resonates at the vibration of the heart within a heart. The heart of the Earth. The depth of our human capacity to FEEL. A connection to the life-force of actual Love. 
Cut into the shape of a tablet like a scroll like a name plate meant to be worn near the Heart as she expresses the name of her wearer. 
Perfected in her magic with a mini watermelon tourmaline and lightning ridge opal on top.
14k gold fill
Length: 17-19" 
ONE OF A KIND