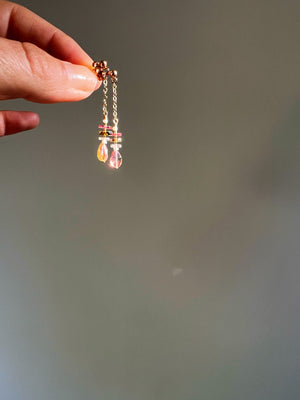 Swirling Pastel Tourmaline Earring Drops
Sale price Price $150.00 Regular price
Humans began adorning their ears as sensory enhancers. A reminder to keep the ears open and to keep conscious awareness of the surroundings. 
Loving the connection of adornment to sensation. Ears, hands, hearts, wrists, noses, ankles----all perfect adornment spots to increase attention to the parts of the body that are able to sense the world around. 
Vintage watermelon tourmaline tear drops that are pristine perfection and the loveliest quality energy. 
Paired with stacked tiny slivers of tourmaline on rose gold chain and rose gold balls with rose gold push backs.
Magic. 
ONE OF A KIND