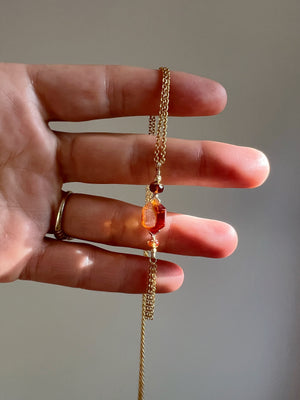 Golden Glow Fairy Dangle Treasure
Sale price Price $225.00 Regular price
The tiniest Citrine Sun Light Fairy with little holographic rainbows inside, this Citrine is like a mirror of self-knowing, an entryway to the Sunlight in the solar system that lives within our own bodies. 
A piece of the sun for your heart to re-define and expand the glow. 
Paired with mini burnt orange toned Madeira Citrine on top of the stone, gentle Citrine on the bottom and 14k gold fill chain dangles like a glittering tail of light trailing after a shooting star. This piece is triple Citrine like a grand fire trine for the soul. 
14k gold fill chain, sweet, playful, light, airy, pure joy 
I can not say in words how good this one feels on the neck!!! 
Length: 16-18" 
ONE OF A KIND