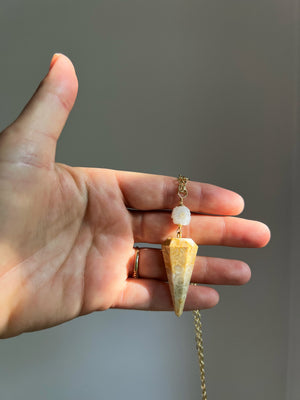 Solar Fossil
Sale price Price $150.00 Regular price
Fossil Coral---memories etched in stone and recorded. Paired with starry solar quartz.
The energy of this one is the Circle. The orbicular spirals inside the fossil pendulum and the eye-shaped-star quartz on top.
Remembering the cycles of life and our part in them. 
There is Now. And there is Now. To step into the parts you would like to include in this cycle you have chosen----this time, here on this planet, at this moment. Showing up for your life. Knowing you are guided and protected.
Gold/Brass
Length: 28" 
ONE OF A KIND