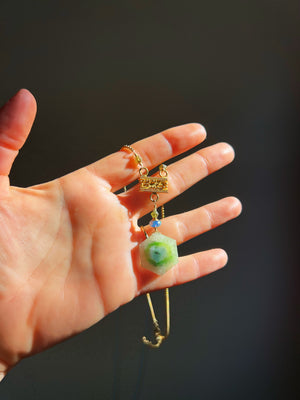 Six Pointed Star to the Heart
Sale price Price $250.00 Regular price
Solar Quartz forms inside of caves--drawing reference to the need for retreat, hermitage and seclusion for periods of time to go deep within the caverns of the heart to pull forward the essence of its calling. 
When we follow our heart, we can not be led astray. 
We are living in a time when the external societal structures we have abided by for so long are crumbling, and the need to return to what truly lights us up is not only necessary, it is non-negotiable. 
A retreat to the cave of your Heart.
Made with ancient Roman Glass and 14k gold fill findings / many vintage.
On snake chain
Length: 17-19" 
ONE OF A KIND