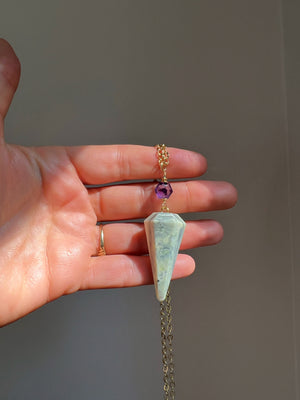 Serpent and Star
Sale price Price $150.00 Regular price
Serpentine Stone paired with Amethyst Hexagon Star. 
Clearing and cleansing and shedding and releasing. 
As the South Node of the Moon has moved into Libra, a moment to notice where we are continuing to live in ways that feel out of alignment with our soul-self in an effort to "please others" or to cast an "image" of self to "fit in." 
A time to release the conforming for conforming-sake. 
Locate the most true essence of self by feeling it in the body as the senses speak directly to you. 
Gold/Brass
Length: 28" 
ONE OF A KIND