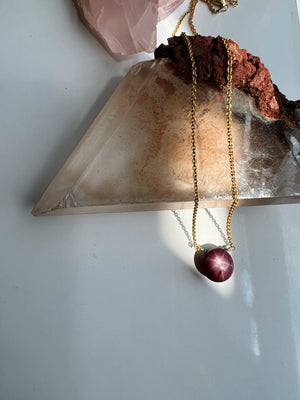 Ruby Star Sapphire
Sale price Price $250.00 Regular price
A six-pointed star inside of a ruby sapphire that burns bright regal and powerful love. 
A gem of gems. 
An orbicular eye to sit near the throat on the chest like the guide that it is.
Rare to find these sweet gems in the right size for us with the perfect amount of exuberance and life-force. 
Smooth and layered. Light and bright. A sacred star that helps free us from the prisons we have created in our minds and to be open to the idea that there is a door or a gate nearby and when the time is right, we will enter in. 
14k gold fill
Length: 16-18" 
ONE OF A KIND