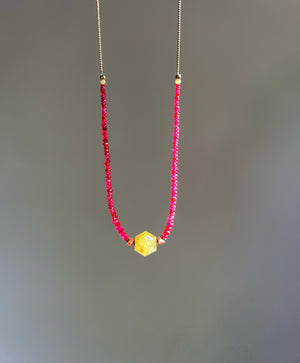 Ruby and Peridot Fairy Garland
Sale price Price $250.00 Regular price
Rubies that play in the dappled light casting glimmers and flashes paired with a mini hexagon made of Peridot. Peridot is a powerful often overlooked stone.
A stone for the month of August.
A stone formed like diamonds are, not in the Earth's crust, but in molten rock of the upper mantle until it is brought to the surface by the tremendous forces of earthquakes and volcanoes.
A stone made of the fire. Brought to light. 
Peridot was once called Chrysolite (in Biblical times) -- Greek for kreusos- "gold" and lithos-"stone".
A stone of the wounded healer which helps us turn our suffering into medicine and sharing it with the world. Paired with so many tiny rubies, this piece is like Heart Healing Medicine and associated with the planet Pluto for transforming pain into gold. 
14k gold fill or sterling silver, we have two total and possible to make one of them on silver should you wish 
Length: 14-16" (choker length)