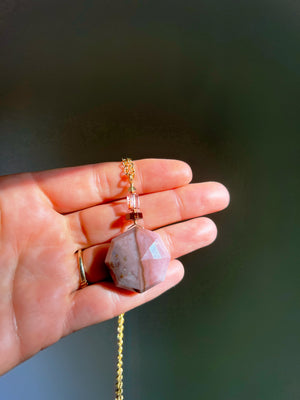 Pink Opal Moon
Sale price Price $275.00 Regular price
Pink Opal is an enchanting healing stone from Peru. 
A stone that holds the medicine of Alchemy through meditating on the power of the Heart.
This is a piece that taps us into the primal remembering that the heart has an intuition that KNOWS things before our brain or the rest of our bodies do. 
A piece to practice with: what if you let your heart lead the way for one full day. One full week. An experiment to expand our capacity to be guided by the wisdom of the heart first. Let the mind follow the heart vs. the other way around. 
Heart Connection that feels shaped like a Moon that is half in shadow, half in light. 
Paired with Garnet and Tourmaline. Primordial heart womb stones.
14k gold fill
Length: 17-19"