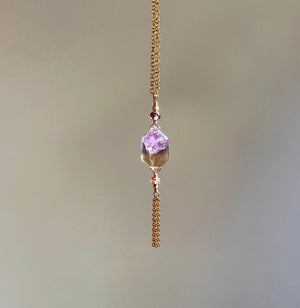 Ornamental Ametrine- A Union of Crystals
Sale price Price $225.00 Regular price
Flashing Ametrine Diamond Portal bedazzled with chain dangles. A stone that melds Citrine with Amethyst --- gems of Fire and Mystical Wisdom that can only be gained from clearing the mind and wiping it clean. 
Ornamental power. Attributes of conscious adornment. A loving union of two blazing crystalline minerals. A patterned shimmering song to be worn like a bell near the heart, reverberating the mysteries inside of us to the external forces beyond time and space. 
A very nigh vibrational piece of light. 
14k gold fill fill
Length: 17-19" 
ONE OF A KIND