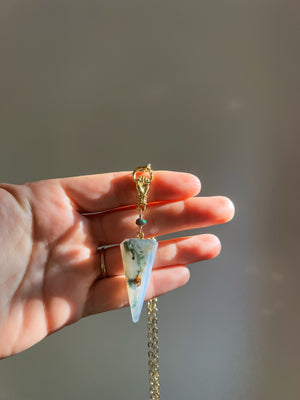 Old Oak Moss Forest
Sale price Price $150.00 Regular price
When I was in Ireland, I formed a new relationship to Moss. 
I kept saying "Moss is Life." 
There is nothing quite like the feeling, the nature, the soft plush pillowy magic of Moss. 
In honor of the Old Oak Forests speckled with moss covered rocks and soil and trees, here is one of our favorite Moss Agates we have laid eyes on. Paired with opal and 22k gold plated POUND fist. 
Power to the aliveness in moss, and all of nature. 
Fairy wonderland in a forest feels. 
Length: 28" 
ONE OF A KIND