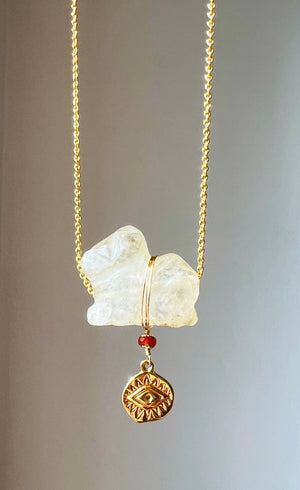 Lion Sun Disc
Sale price Price $250.00 Regular price
A unique piece made in a unique way. Different in many ways than most of our pieces.
This is a rare hand carved Lion made out of quartz. Wire wrapped in gold with a sunstone and a 22k gold plated evil-eye sun disc dangle. 
We had to make it this way in order to weight it properly so the Lion would "stand up." It moves freely on the chain and feels like a medallion on the Heart.
Carrying the energy of master healing crystal quartz, the light of the sun in the sunstone, protection and wisdom in the eye, and a true talisman for the gate of the Lion.
22k gold plated eye disc, 14k gold fill chain, 14k gold wire.
Length: 18-20"
ONE OF A KIND