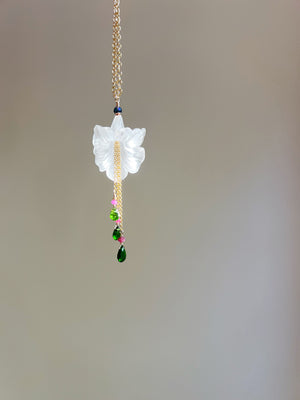 Lily of Life
Sale price Price $288.00 Regular price
Like a home for the fairies. A draping crown full of mothering energies---purity, innocence and re-birth vibrations. Carved glass made of lightning, limestone and sand carved into a Lily blossom we then paired with a violet opal on top and three Diopside and Ruby crystal drops dangling. 
A sculpture made of stone and earth and magic. 
This piece is the coming together of so much pure love. Imprinted with Mother Mary-queen of the Lilies- the abundance all around us and our regal sovereign crown of truth. 
14k gold fill chain
Length: 17-19"
ONE OF A KIND