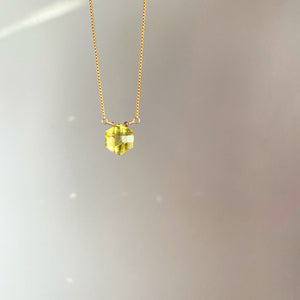 Lemon Drop
Sale price Price $158.00 Regular price
Faceted Hexagonal Lemon Quartz drops paired with mini grayish-lavender hued sapphires on 14k gold-fill or sterling silver snake chain meant to sit at the notch at the throat.
Lemon Quartz is a Solar Plexus stone. A stone of fire, creativity, passion, zest, vitality, confidence, abundance and self-worth. It is very similar in healing to Citrine, though it is a heat-treated stone to give it that stunningly magnetic yellow color-way.
We love its vibrancy and light. The way this crystal is cut to reflect and illuminate. The color of joy and play. 
The most healing thing about this piece is that it serves as a reminder of our youthful essence. That we can create whatever we wish to create. And we can live in the beauty of that imaginative creation as long as we keep our eyes, hearts and minds wide open.
Paired with the gentle soothing lavender-gray tones of the sapphires, this piece is literally the Pantone colors of the year and we are pretty obsessed with it's magic.
Length: 14-16"