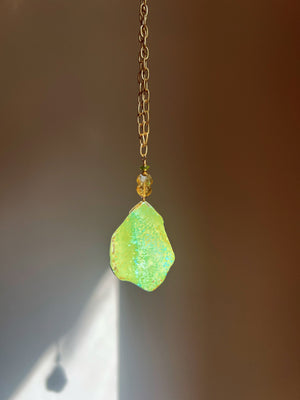 Infinite Waters Connecting Earth and Moon
Sale price Price $295.00 Regular price
Rarest sea green raw Turquoise with light mustard tones and brown spots from the raw ways in which it forms. Paired with a yellow-mustard Infinity tourmaline stone on top. 
Speaks to the waters and the waters speak to us. Soothing on the heart. 
Affixed to the middle of this RAD paper clip chain. One of our new faves. Dense and energizing. 
Did not want to let this one go, but may it go where it is called. 
14k gold fill
Length: 19-21" 
ONE OF A KIND