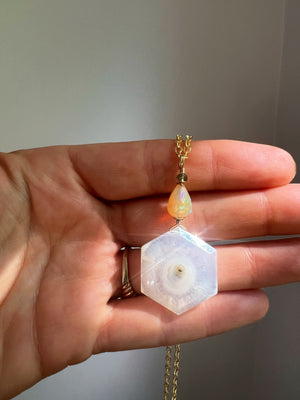 Heart of the Sol
Sale price Price $250.00 Regular price
SOL(ar) Quartz. A stone that grows in the embryonic womb of a cave forming orbicular patterns like eyes that see everything in the underworld so when they come to the light, they embody it ALL. 
This one is a perfect all-seeing-eye shape with a powerful center. 
The energies pull you directly into a meditative state and a graceful flow where everything external begins to dissipate so you can dive into the center of stillness. This is where the messages come from all directions because it is cyclical and circular. The way a figure 8 moves. 
The tear-drop Ethiopian Opal on top radiates every color of the rainbow, also in all directions. 
This piece feels like the Sun swallowing the planet Venus into its Heart, to light it up from the inside out. Venus Cazimi Stone, 8/13/23.
A powerful piece for a powerful illumination and expansive period of time. 

14k gold fill
Length: 17-19" 
ONE OF A KIND