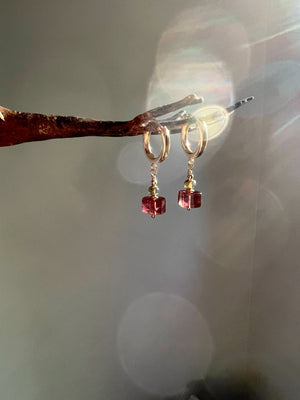 Fairy Tree Hoop Dangles
Sale price Price $135.00 Regular price
Chunky Pink Tourmaline slices with opals on 14k gold fill hoops. Inspired by Fuchsia the Fairy Tree---a Fucshia plant I fell in love with and feed offerings of crystal wishes and loving words on the daily. 
A cyclical process of reciprocity and remembering---as we feed the nature we are forever fed by. 
I love these earrings so much I am keeping a pair for myself. They fit perfectly, are light so you do not feel them on and emanate pure enchantment, delight and beauty.
Only two pairs so grab 'em if you love 'em!