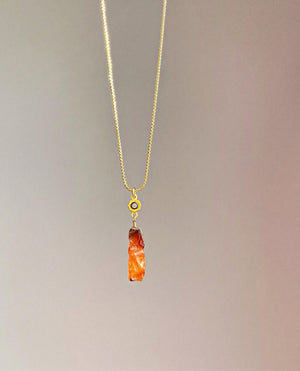 Eye of the Fire Rising
Sale price Price $188.00 Regular price
Mini pre-form Carnelian Stones that were excavated from a home that burned down. They carry the energy of the Carnelian that they are: Fire, Spark, Creation, Song, Fertility, Birth, Passion, Desire.
They are the Root, the Sacral and the Solar. 
They are raw, they are scorched, they are magnificent.
They are the re-build, the Phoenix rising from literal ashes. 
They were ready to come to us at this moment in time, when we need them most. Hold sacred to your knowing and your visions and your sovereignty. 
Each one is unique and will not look exactly like the photos.
On either 14k gold fill or sterling silver
Length: 15-17"