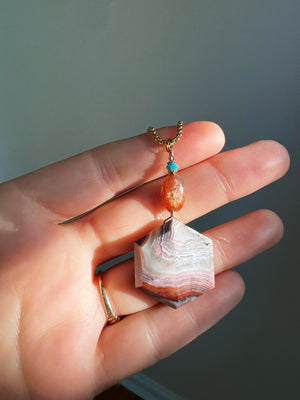 Earth Rainbow with the Sun
Sale price Price $275.00 Regular price
Agate forms in concentric layers, a reminder of the spiral and interconnectedness of life. This one has so many colors, it is like a banded rainbow formed from clay, water, pressure and power. 
Paired with Sunstone and Turquoise, our inner shining sun and wisdom through living this life. 
A stone that raises our awareness and the collective consciousness on the planet for greater co-mobilization towards that which matters most, Love. 
A piece that helps us remove and release distractions from the work we are here to do.
Grounding and stabilizing. 
14k gold fill
Length: 17-19" 
ONE OF A KIND