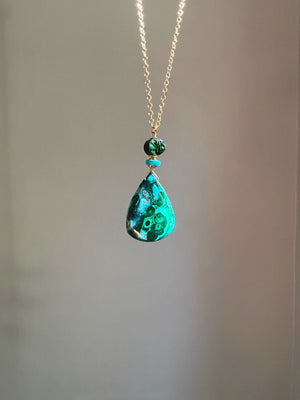 Divine Feminine and Divine Masculine Rising
Sale price Price $250.00 Regular price
Chrysocolla and Malachite, paired with Uvarovite Green Garnet Druzy.
There is no other way to say this other than that THIS STONE embodies the coming together of the Divine Feminine and Masculine energies that reside in us all. 
Energy of that balance formed by the Earth into a wearable token of valuable magic.
Chrysocolla and Malachite are both ores of Copper---a healing and detoxifying agent.
A stone that detoxes our minds so that we remember, especially as women, that we were born to rise, to lead with confidence and to guide with wisdom and love.
14k gold fill
Length: 17-19" 
ONE OF A KIND