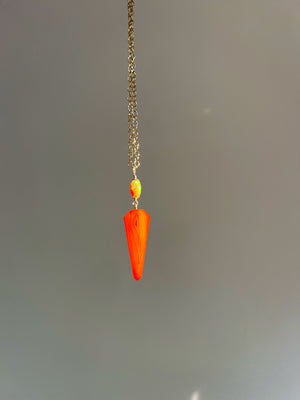 Creative Ignition
Sale price Price $145.00 Regular price
Carnelian pendulum with swirls divine. Bright hot red orange flame of fuel for creative spark and ignition. A stone of all that is fertile and ready to activate the spots that are stagnant within us. 
A clearing of the waters that have begun to feel like wading through sludge. A cleansing. A purification. A drive of life-force that is ready to re-shape itself for the newness ready to come through.
Paired with fire filled opal.
Length: 20" 
14k gold fill
ONE OF A KIND