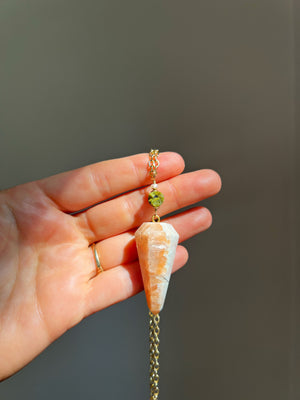 Chasm of Creation
Sale price Price $150.00 Regular price
This pink/peach Scolecite (Clearing Stone) has this incredible canyon or fissure down the middle separating what feels like crackling bubbling brightness pooling to the surface. 
A Peridot stone of intuition on top with a mini pearl.
A talisman of fortitude, even when it feels like we might fall through the cracks and become submerged and lost forever. 
Willingness to surrender the outdated parts in order to ALLOW the new desires to be birthed through you. 
Gold/Brass
Length: 28" 
ONE OF A KIND