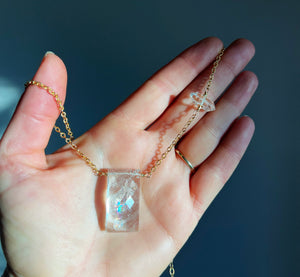 Woman Born of Crystalline Stars
Sale price Price $350.00 Regular price
A dense and faceted cut of Quartz. When the light hits her just right you can see the profile of a woman's face. That's what we see. Rainbows arc in and out of the prisms. 
A piece that honors the time before our soul incarnates; the Liminal; the decision to take the stars that have fractured in the darkness and use them to make you whole enough to enter into a new life time. 
The Liminal space also includes that void right before we are ready to exit this time on the planet. 
An in between energy that holds the power of angelic forces and knowing. 
A swimming inside a stream of womb space or star space. 
With a Herkimer Life-Force Crystal embedded in the chain. We call this method of design: "Breaking the Chain." Breaking old patterns and releasing ancestral trauma that will not be carried forward while honoring the strengths and gifts these lessons have gifted us with. 
14k gold fill
Length: 17-19" 
ONE OF A KIND