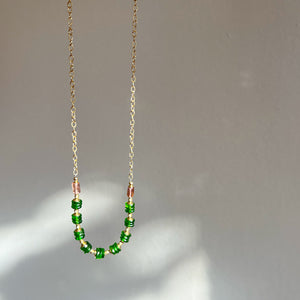 Spring
Sale price Price $450.00 Regular price
Sweet delicate love. 
Diopside (how we can see things from more than one perspective)--a stone that carries the emerald green tone of heart power. 
Pink tourmaline to honor the divine feminine beauty alive in the nymph and fairy beings in the forest. 
Each crystal has a glimmer of light inside it. A delicacy to the senses. A garland of Spring. 
Wearing it as you walk through the blooms if you find yourself in the Northern Hemisphere this March and April. You will look just like those trees blooming fragrant flowers. 
14k gold fill
Length: 16-18"