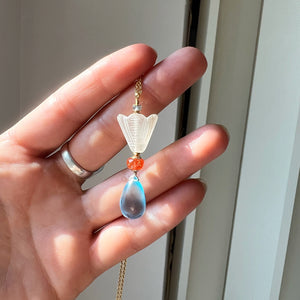 Firefly Flower of the Sun
Sale price Price $225.00 Regular price
Blue Topaz- Crystal of Potency-Stone of the Third Eye and Communication: clarifying the truth of our intentions based on the dreams we are able to create by expanding our vision and imagination. 
Paired with vintage carved "fly" quartz//ancient Egyptian symbol of strength and vitality.
Sunstone: Honoring the power of the solar ray and the light that gives us life.
A magical firefly being. 
A dewdrop full of wishes. 
A clarifying piece for attuning to our desires and like the lightning flash of the lightning bug, trusting in the hits of insight from the universe that remind us we our dreams are on their way to us if we hold the vision and ask for that which we are ready fully to receive. 
14k gold fill
18-20" length
ONE OF A KIND